15 of the Hottest AI Companies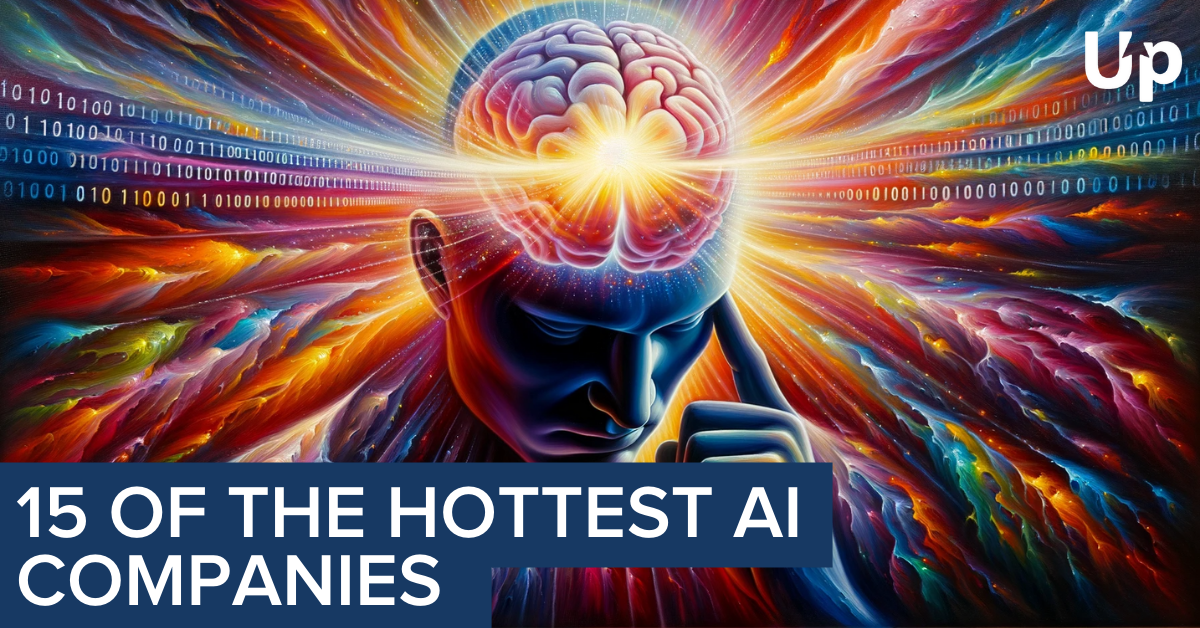 The artificial intelligence (AI) sector is exploding, with companies making major advancements in natural language processing, computer vision, robotics, and more.
As AI transforms how we live and work, investors are taking notice and seeking opportunities to contribute to the growth of this dynamic industry. But with so many AI companies operating today, it can be challenging to identify the most promising investment prospects.
To spotlight the AI businesses generating significant traction and buzz, we've compiled this list of the 15 hottest AI companies based on their recent search growth. Whether you're an experienced tech investor or just starting to build your portfolio, reviewing these thriving companies can help inform your investment strategy going forward in this high-potential space.
Read on to learn why each of these 15 AI innovators is worth watching right now.
Search Growth: 3015%
Search Growth Status: Booming 🚀
Recognizing the fast pace of development in the AI sector, Anthropic collaborates with a number of stakeholders, such as civil society, academics, and non-profit organizations, to promote and maintain safety and AI accountability in the industry.
The research company's main product is Claude, a chatbot assistant designed with AI safety in mind.
In line with its ethos as a company, Anthropic recently made policy proposals to the National Telecommunications and Information Administration to safeguard the ethical and accountable use of AI in the future. These proposals include a call for industry-wide evaluation standards and best practices.
Search Growth: 1349900%
Search Growth Status: Growing 📈
Character AI is an online application that helps users create unique and interactive AI characters. This opens a world of entertainment where fictional or real personas come to life to chat with you. But it's not only in the fun domain where Character AI is proving useful. Many businesses now also deploy the services and capabilities of the app.
Since they launched their mobile app in early 2023, Character AI has racked up more than 4.2 million active users in North America alone.
Even though Character AI is still in the beta phase, there are plans in place to introduce key features that will positively increase the user experience in the coming years.
Search Growth: 387%
Search Growth Status: Flat ➡️
Cohere is an enterprise-focused provider of LLMs and AI tools to generate better business outcomes.
The company's flagship LLM, Command, is the driving force behind its recent chat API and retrieval-augmented generation (RAG) public beta model. The model will help to mitigate trust issues that some users have with AI-generated content by improving the relevance and accuracy of generated information.
In the near future, Cohere is reportedly seeking to enter a second round of funding after its first successful round.
Search Growth: 173%
Search Growth Status: Booming 🚀
DeepL Translate claims to be up to six times more accurate than its competitors when translating common language pairs, namely English and German and English and Japanese. At the core of its business model, DeepL Translate envisions a world where language poses no barrier to communication.
The company has headquarters in Germany but aims to extend its reach. And they have already started, with their first office in the Asia market opening in Japan in July 2023.
DeepL Translate will add more languages to its innovative AI model as part of plans to reach more people worldwide. They have also rolled out a new feature called DeepL Write, which facilitates the writing process using neural network technology.
Recent Search Volume: 720
Search Growth Status: Flat ➡️
For law firms seeking to streamline their processes and increase output, Harvey AI provides the answer. Their systems are designed to empower lawyers and legal professionals to use large language models to do the time-consuming portions of the job, leaving them with more time to focus on the human aspects of the business, such as advising and consulting with clients.
A recent partnership with PriceWaterhouseCoopers is just one example of how Harvey automates legal professionals' processes.
As time passes, you can look forward to more lucrative collaborations between Harvey AI and big and small law firms. They have thousands of law firms waiting to join the legal AI revolution. And with the recent appointment of their Security Advisory Board, there will be even more improvements in their security best practices.
6) Holistic
Search Growth: 0%
Search Growth Status: Flat ➡️
Holistic AI is a global leader in AI governance, risk management, and compliance, focusing on creating an environment where AI can be trusted to help society.
The need for regulation becomes more apparent as the AI industry increases, especially given the fast rate it is growing.
According to the World Economic Forum, companies that do not act responsibly with their AI offerings face penalties and liability concerns. This, coupled with an increasing awareness around AI accountability, makes Holistic AI even more relevant in the current (and future) market space.
Search Growth: 1025%
Search Growth Status: Booming 🚀
Hugging Face, named after the owners' favorite emoji, is a collaborative community platform for machine learning (ML). They allow businesses, developers, data scientists, ML engineers, and others to collaborate on open-source projects or models.
Listed as one of the Times 100 influential companies in 2023, Hugging Face has made strides in the ML market.
Around the middle of the year, Hugging Face was reportedly valued at $4.5 billion, thanks to considerable investments in the company. In the coming months and years, the company is set to grow even more as a resourceful hub to create, test, and deploy machine learning.
Search Growth: 22%
Search Growth Status: Flat ➡️
Jasper, a powerful AI writing tool, generates human-like content by drawing on top models such as Chat GPT-4 and Anthropic. With the use of grammar and SEO-optimization tools, the final text is then fine-tuned to create an output that is naturally flowing and of high quality.
Recently, Jasper has signed partnership deals with Google Workspace, Webflow, and Make and Zapier to assist in decreasing repetitive tasks and increasing content creation.
With former DropBox president Timothy Young now running the company as CEO, we can look forward to Jasper delivering more workable solutions that increase speed and enhance the final product's quality.
Recent Search Volume: 3600
Search Growth Status: Growing 📈
With major clients such as Google, DropBox, and AWS (Amazon), LangChain provides services enabling users to use an extensive library of open-source components and pre-built chains to execute their projects more efficiently.
The company's success lies in its large language models (LLMs) and how they are deployed to develop apps in conjunction with AI. For example, LangChain can overcome the challenge of ChatGPT only providing data before September 2021 by connecting AI models to sources that can provide more up-to-date information.
As user experience increases and LLMs develop, we can expect LangChain to provide an even smoother synergy between AI and external sources.
Search Growth: 270900%
Search Growth Status: Booming 🚀
Midjourney boasts a strong team, with advisors' guidance, that explores just how far the human imagination can go through research and AI. One of their key features is a bustling online community on the chat app Discord, where ideas and knowledge about text-image generation are exchanged.
Recent updates to the software have allowed for more realistic depictions based on text prompts, particularly in the Asian market. Now, users are getting a glimpse into the past as they deploy the power of Midjourney to recreate a long-gone time.
While the app currently is only accessible through Discord, there are future plans in place to run independently.
11) Mosaic ML
Search Growth: 255%
Search Growth Status: Flat ➡️
Mosaic ML provides a platform for users to build their own generative AI models tailored to their unique needs. This customization ability is helping companies to fine-tune their processes and increase their outputs on a large scale.
In a recent massive deal totaling $1.3 billion, Mosaic ML and Databricks have joined forces to boost the use of open-source AI models. The coming together of these two tech giants will see users adopting both companies' offerings to enhance their workflow and output further.
Search Growth: 3084%
Search Growth Status: Booming 🚀
OpenAI, a frontrunner in the research of artificial general intelligence (AGI), is the parent company of the robust ChatGPT 3.5 offering. The chatbot, launched in late November 2022, saw more than 80 million users join in the first eight months of 2023.
The company recently announced a new update to Chat GPT that will encompass an interface that can hear and see, offering a more intuitive experience for users.
Another exciting development to watch is OpenAI's AGI system, which will be able to navigate commands and complete tasks at a human level, with a strong focus on building a safe AGI community that benefits all.
Search Growth: 643%
Search Growth Status: Growing 📈
Perplexity is a chatbot with a difference. Unlike other chatbot offerings in the marketplace, Perplexity provides real-time information updates and citations and sources for the provided information. Users also experience a more personalized and interactive platform using natural language processing.
In recent news, following a successful round of funding that raised $25.6 million, the company has introduced its first mobile application for iPhone users. The app is available for other operating systems, too.
Search Growth: 49%
Search Growth Status: Growing 📈
Replit is a bountiful playground for software creators and developers, for 20 million of them. The integrated development environment specializes in providing a collaborative and interactive coding platform. With the help of Ghostwriter, the AI programmer, users can develop, test, and go live quickly.
The company also hosts several startups in the tech and AI industry, calling itself a "launch pad" for up-and-coming businesses.
Replit aspires to seamlessly integrate AI into its offerings in the future, with plans to have a key presence in the AI software creator space.
Search Growth: 176%
Search Growth Status: Growing 📈
To Runway, art and creativity are at the center of everything they stand for, everything they do, and all the services and products they provide.
The AI research company allows users to design and create new videos and images in minutes through their Gen-2 technology.
A recent partnership with Google Cloud and its generative AI tools is set to see an increase in creative AI collaboration. The results can most likely be seen at the next AI Film Festival.
Conclusion
The rapid advancement of artificial intelligence represents a technological revolution potentially poised to fundamentally transform human society. As the AI capabilities of the companies highlighted here continue to grow more sophisticated, the application of their technologies may reshape industries and daily life for people around the globe. From revolutionizing healthcare diagnostics to optimizing transportation networks, the positive impacts these AI innovators could engender are immense.
While financial returns attract investors, there is significant financial risk. Regardless, the true value of supporting these thriving AI companies lies in their vast potential to solve humanity's most pressing challenges.
The opportunity before the companies dominating today's AI landscape is twofold: how do you capture a vast and rapidly growing market while balancing ethics and meeting humanity's needs? With thoughtful leadership and continuous innovation, the AI revolution these businesses are driving will hopefully be a force for good.
Disclaimer: The information contained in this article is not investment advice; and does not constitute a recommendation to buy or sell any securities. The information within this article is meant for informational purposes only. Any statement in this document does not mean that the firm nor its employees agrees, endorses or approves any content of the document. This article is only for knowledge sharing and does not constitute any investment advice. Anyone who makes an investment decision based on this article does so at their own risk. Any fund investment should be made through a formal confidential private placement memorandum and other fund documents. Potential investors should carefully read the risk factors in the private placement memorandum of securities issuance, and consult their own professional consultants if necessary, and receive advice on any investment, legal, tax or accounting issues. Past performance is not indicative of future performance, and the investment may potentially result in a loss of principal. The source and data of the material are considered to be reliable. However, there is no guarantee of its accuracy or completeness. The Company has no obligation to disclose or revise or modify this statement or any forward-looking statements as the circumstances change or as a result of subsequent events. Private equity funds are only suitable for specific qualified investors to subscribe. United States sales of the fund interests are exempt under Regulation D of the U.S. Securities Act of 1933, and are only applicable to potential investors who are eligible as "Qualified Investors" under Regulation D. Sales outside the United States are exempt under Regulation S of the U.S. Securities Act of 1933. Private equity funds are sold through Upmarket Securities LLC. Upmarket Securities LLC is a U.S. registered broker-dealer, and member of FINRA.
The deep blue line in the charts indicates the company's search volume relative to the average set search volume among the other companies plotted as a dashed green line.
The Title is not intended to suggest coverage of all existing AI companies. The firm does not claim or warrant that this article captures the entire universe of all investible Artificial Intelligence companies.
About UpMarket
UpMarket's mission is to unlock the private markets for individual investors.
We provide access to a range of asset classes and investment strategies that span private equity, hedge funds, crypto, real estate, and other alternative assets.
The problem
Historically, accessing private market investments had these challenges:
A large barrier to entry due to high investment minimums
Time-intensive because sourcing deals is a lot of work even if you've got a great network, and
Costly because of investment-related diligence costs, paperwork, and legal fees
The solution
UpMarket works to address these barriers for individual investors by:
Offering lower investment minimums
Sourcing and conducting diligence on opportunities for investors, empowering them to pick and choose from pre-screened opportunities
Making the investment process entirely digital, straightforward, and easy to manage from a single portal
Individuals like you have invested over $140 Million with UpMarket.