Invest in Private Markets and Alternatives using Self-Directed IRAs and UpMarket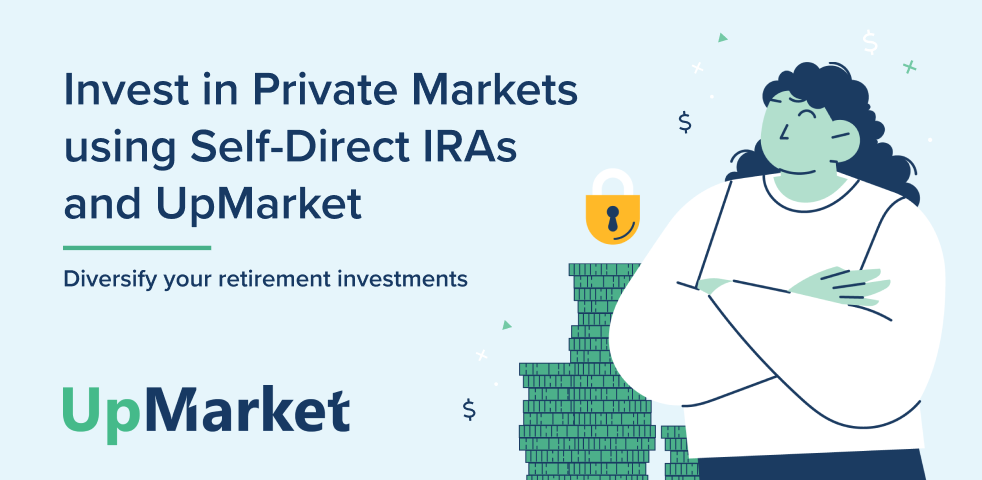 At UpMarket we want to unlock private markets for individuals so they are empowered to build diverse portfolios that best meet their objectives.
This means unlocking new asset classes like hedge funds and private equity along with simplifying the traditionally opaque private-market investment process using technology.
You can read more about how we think about our mission of increased access here. Further, you can read about the sourcing, diligence, and post-investment monitoring we conduct for our investors in our FAQ.
But we couldn't stop there.
Because, what good is access to a myriad of asset classes, if you only have one way to invest?
Access: Delivering on Our Promise
We believe supporting investments from Individual Retirement Accounts (IRAs) is critical.
Every investor has a unique mix of timeline, goal, risk tolerance, personal interests & knowledge, tax considerations, and countless other factors. While not guaranteed, IRA accounts often have tax advantages that may reduce, or potentially eliminate capital gains tax related to investments and better serve individual investor objectives.

To enable IRA investments, we partner with self-directed IRA custodians including RocketDollar and others to offer investors a way to access our offerings through tax-advantaged individual retirement accounts.
What is a Self-Directed IRA?
Fundamentally, self-directed IRAs (SDIRA) are IRAs that can hold a variety of assets (alternatives) that one normally cannot hold or invest in using a traditional IRA or Roth IRA. Generally, Self-Directed IRAs are best suited for more experienced investors who have familiarity with investing in alternative assets and want to do so through tax-advantaged accounts.

Self-Directed IRA custodians are distinct from the asset managers or broker-dealers, like UpMarket, that sell you investments, so you'll have to create an SDIRA account with a custodian, fund it, and then separately work with your investment firm to move the capital from your funded SDIRA to initiate an investment. The custodian and investment firms you work with should provide you guidance on what steps to follow.
You should carefully consider whether an SDIRA is right for you. We encourage you to consult FINRA's guide to SDIRAs along with speaking with a financial advisor or tax professional regarding your investment objectives and personal tax situation. Below are some common pros and cons of investing using Self-Directed IRAs, that may or may not be applicable to you.
Pros
Choice: Access a much larger universe of investment opportunities
Returns: Potential for capital appreciation if you are a savvy investor and choose wisely
Diversification: Ability to invest in asset classes that may be less correlated with other investments or retirement assets
Tax Benefits: IRA accounts may have favorable tax treatment if you follow IRS rules
Cons
Effort: Setting up a Self-Directed IRA can take more time than a traditional IRA
Fees: Typically there are more fees associated with Self-Directed IRAs
Diligence: The ability to access a greater number of investments means that investors have to do their own diligence to avoid fraud and low-quality investments
Low Liquidity: IRAs have early withdrawal limitations and many alternative investments do as well. This could limit your ability to liquidate an investment when you want
Regulatory Limitations: The IRS limits self-Directed IRAs from investing in some specific investments and asset classes like collectibles

Disclaimer: Information provided by Upmarket Securities LLC about investing through self-direct individual retirement accounts is only a summary, and is not intended to be nor should be construed or used as, investment, tax or legal advice, a recommendation, or an offer to sell, or a solicitation of an offer to buy, an interest, directly or indirectly in a product. Any offer or solicitation of an investment may be made only by delivery of Offering Documents and documents attached as exhibits to the Offering Documents. You should rely solely on those documents in making any investment decision. An investment in our products may not suitable for all investors.